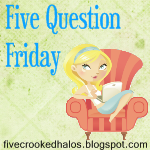 1. Take your pick...date night, girls night out, or night out alone?
Umm...I would take any night out at this point...I would really love a date night but I would love to hang out with friends too...o wait I have to have friends first, right? :)
2. Can you touch your nose with your tongue?
Almost, but not quite...I just tried and it hurts my jaw :)
3. What is your favorite flower and why?
I love the smell of roses and how beautiful they look! But I really love tulips in the spring too!
4. If you could go back in time, what advice would you give yourself?
Let God be in control. Quit making your own plans because God has other plans!
5. If you won the lottery, what is the very first thing you would do?
Go on a great trip - maybe a cruise around the world! Australia, Hawaii, Europe, South America, Africa.....ahhh.....dreams...aren't they nice?
Feel Free to Tell Me Your Answers Too!
Happy Friday Everyone - and a little shout out to my husband - Happy Birthday Honey!