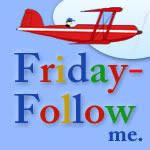 Welcome, Welcome, Welcome!
IT is finally Friday - I love Fridays because I look forward to my husband being home all weekend and relaxing with me and the little guy! What do you love about Fridays?
Feel free to look around! This blog is dedicated to honoring all mothers and sharing our experiences with each other! Sometimes, it is the only way I get through the days! :o)
I would love to have you follow me on my journey through motherhood! Thanks for stopping by!